Manx Harriers U13 and U15 athletes are eligible to compete in the Isle of Man Track and Field composite team, known as Team IOM Youth.
For the 2019 season, Team IOM Youth will compete in the North West Division 1 against high-class opposition.
For you to be considered for selection for the Youth Development League squad, you must be:
a fully paid up member of a Manx Harriers.
be registered with UKA.
attend regularly club training sessions and league matches
be willing to compete in a number of disciplines if requested to do so.
put forward for selection by Manx Harriers.
Athletes may also be selected for their perceived potential and selection will not necessarily be based on an athlete's current performances.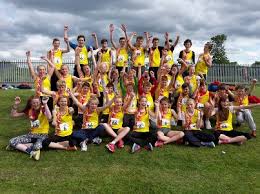 If you wish to be considered for selection then download and complete the YDL 2019 Registration Form and return to your club reps Jo Glassey or Tonya Corrin
Further details can be found on the IOMAA website.